Antibiotic Resistance Research
You are here
Home
› Antibiotic Resistance Research
 Vital Antibiotic Resistance Research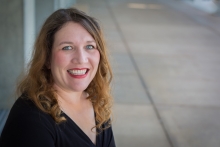 "About 90% of the antibiotics we consume do not come from hospitals. They come from agriculture," said Professor Miriam Barlow. Since Merced ranks the fourth in county agricultural sales in the USA (after Fresno, Tulare and Kern), producing over $2.33 billion each year, understanding antibiotics can sustain local health and productivity.
Dr. Barlow is working on a solution to antibiotic resistance. By rotating through a sequence of antibiotics as bacteria evolve resistance to each one the cycle of resistance can be broken. Antibiotics can be brought back to their original level of susceptibility. This research, conducted by Dr. Barlow, Dr. Juan Meza, and a team of UC Berkeley Mathematicians, is important not only for healthcare providers and consumers, but for the healthy agriculture consumers as well. Through "Project Protect" Dr. Barlow and her students create solutions for fighting resistant superbugs, and apply the solutions in hospital settings. 
So what must everyone know about antibiotic resistance? According to Dr. Barlow,
1.     Hospitals are not safe places to recover for long. They contain many antibiotic resistant strains of bacteria.
2.     Antibiotics have side effects and can be toxic. They can even lead to death (through side effects such as liver failure). It is important to know those side effects as treatment begins and to stop treatment if serious side effects occur.
3.     People should look for non-antibiotic options and stay healthy to prevent the need for antibiotics in the first place. 
Professor Barlow's work on combating "superbug" infections was recently featured on KSEE 24. 
SaveSave